Philly in Photos
We are home from the Philadelphia Film Festival, and once again, I have a wrap-up report with lots of pictures.
We all landed at separate times, but we coordinated to have a driver from the Festival get as many of us as possible. The wonderful Mark James picked Kevin, Kris, and I up, but we couldn't find Tipper. We were driving around the airport when one of us spotted her walking. We yelled her name through many lanes of airport traffic and she finally heard us and came over to the car. She claims that our many phone calls to her did not show up on her phone.
The Festival was nice enough to hook us up with a place to stay. Since there were so many of us in town, we got an apartment, instead of a hotel room. Here we are after just arriving.
Nothing fishy going on here, just a late night photo shoot. Tipper saw a lot of horror films in Philly so we had to do fun things before we went to sleep so that she wouldn't be scared.
Our first screening was very well attended and we had a great Q&A session afterward. We got some new questions and the audience seemed to really like the film.
As is our custom, we handed out free LOL Soundtracks after the Q&A. It's great to have people come up and talk to us individually after the film. We always meet a lot of nice people.
Here is Tipper talking to filmmaker
Paul Harrill
after the screening. We spent some time hanging out with Paul during the weekend and talking about the changing landscape of indie film. He's keeping up with all the changes on his
blog
.
The following morning, some high-school friends of Kevin and mine invited us over for breakfast. Drew Spear (right) is a chef, and prepared a delicious multi-course meal for us.
One of the nice things about traveling to Festivals is the chance to do touristy things.
Tipper and Kevin did a impromptu photo shoot outside of some Philadelphia landmark.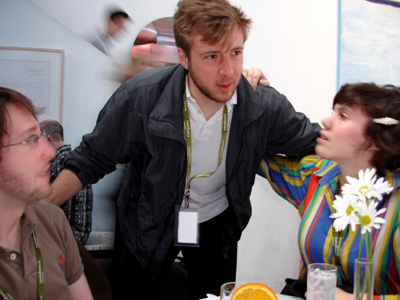 The Festival threw a delicious brunch for the Guests at a swank downtowm restaurant. The food was amazing and we got to meet other filmmaker who were in town.
Here I am with Jesse Dubus, PFF's amazing print-traffic guy. Chris and Jesse were friends before the Festival, and he served as our unofficial guide for the weekend. He knew where all the parties were happening, and how to get us from one place to the next.
My parents came to the second screening of the film, and afterward they took us all out for Philly Cheesesteaks at a nearby restaurant.
The next stop is Boston. We will be there April 19-24th. Please come see the film if you have a chance.